Call now and enquire for more….Terms and Conditions Apply.

Health & Wellness
Pampering & Enjoyment
Solo, Girlfriends & Couples…
Our day spa packages are designed to care for you…whatever you're feeling. And if you don't see what you're looking feel free to create your own from our spa menu.
Add Our 2 course Healthy Spa lunch at $25. It includes  Main course and Desert.
Classic Spa facial
Classic Spa Facial $95 (45 min.)
Treat yourself to a relaxing facial, designed to deeply cleanse, tone, exfoliate, and hydrate the skin. Melt stress away with an aromatic face, neck, and Décolleté massage. We have a refreshing treatment mask to suit all skin types.
Express facial
Express Facial $95 (45 min.)
For a quick facial that can help improve your day, choose our express facial. You'll notice the results immediately, and we offer four different treatments to address your specific skin concerns.
Beautifying Eye Care
Beautifying Eye Care $55 (30 min.) or add to your facial $35
This professional eye treatment is created for the care of the eye contour area. This treatment not only helps to prevent signs of aging, but also reduces fine lines, wrinkles, circles, and bags under the eyes.
Classic Spa Back Treatment
Classic Spa Back Treatment $85 (80 min.)
The classic spa back treatment is like a facial for your back. With our deep cleansing exfoliation and extraction, massage, and mask to re-hydrate your skin you'll leave our spa feeling more refreshed than ever.
Rosa-C Treatment $120
Rosa-C $120
Rosa-C is a professional treatment for clients with erythrosis, couperose and rosacea. Rosa-C significantly reduces redness, attenuates burning sensations and tightness, instantly soothes irritation, and provides immediate comfort and relief.
HydraScience AHD Treatment $145
HydraScience AHD is a high performance hydrating facial that consists of a 5 layer relaxing mask that contains over 50 active ingredients.
Pure Anti-Age Treatment $145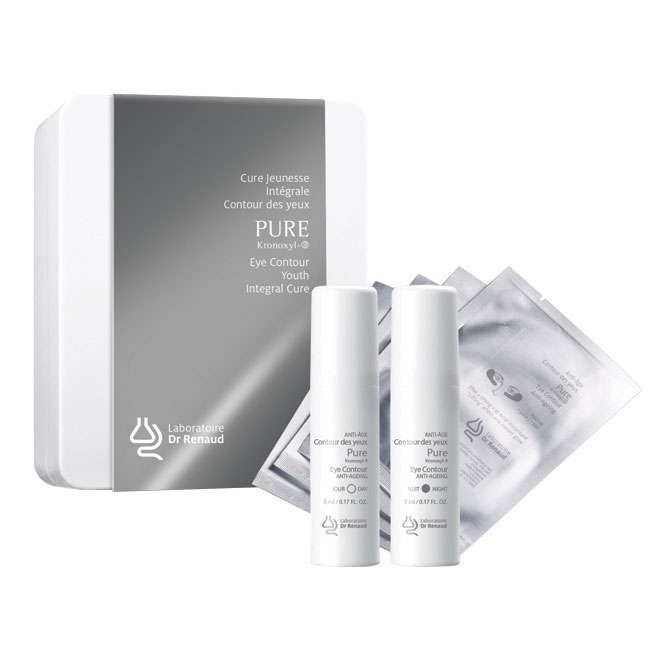 Finally you can have a cosmetic alternative to anti-aging surgical procedures. This facial contains the active ingredient Kronoxyl-3 which is exclusive to Dr. Renaud. This ingredient reduces fine lines and superficial wrinkles, fills in deep wrinkles, and relaxes expression lines.
Clear Up Treatment $145
Clear Up is a professional purifying treatment developed to answer specific needs of oily and blemished complexions. This treatment purifies and clears the skin, normalizes sebaceous secretion, controls bacteria, eliminates blemishes, and reduces signs of irritation.
Glycolic Plus Treatment $145
Plus is a professional treatment facial specially formulated for hyperkeratinized, aging, dehydrated, dry, rough, and dull complexions. It refines the texture of the skin, attenuates the appearance of wrinkles and fine lines, hydrates, and revives and clears the complexion.
Radiance Facial Treatment $145
Radiance is a professional skin lightening treatment. It is especially designed for obtaining a real lightening effect and brightening the complexion. This facial treats brown spots and chloasma (mask of pregnancy).
Ultra- Moisturizing Collagen Veil Treatment
Ultra –Moisturizing Collagen Veil $185
This collagen veil provides instant, long-lasting hydration. It improves the appearance of wrinkles and fine lines.
All prices are subject to H.S.T.
Are you ready to book a time? Get in touch with our staff.
Stress Release Day Spa Package $329/person
Detoxifying Moor Mud Wrap – 45 minute
Dead Sea Salt Therapeutic Bath -30 minute
Relaxing Head Massage Free
Relaxing  Massage -90 minute
Free bathrobe/towel Usage
Free Refreshment drink
$329 -approx. 3 hrs 15 minute
Le Classique Day Spa Package $310/person
Full body Relaxing Massage – 60 minute
Spa Pedicure -60 minute
Personalized Facial -60 minute
Free bathrobe Usage
Free towel Usage
Free Parking
$310  for approximately 3hours
Couples' Day Spa Package $259/person
Couples' Relaxing Massage-60 minute
Couples' Therapeutic
Detox Dead Sea Salt Bath – 30 minute
Free Juice
$259 per person approx. 1hr 45minute
Men' s Day Spa Package $259/person
Relaxing Massage Tailored for Him – 60 minute
Men' s Paraffin Foot Therapy – 60 minute
Hot tub  or Sauna or Steam Hamam
$259per person
To book your Day Spa Package please call us at 613-487-3277 or email: info@bourgetspa.com
We look forward to pampering & revitalizing you soon!
The Bourget Inn & Spa Resort
4105 Bouvier Road, Bourget (Ottawa), Ontario, K0A 1E0
Toll-free: 1-866-487-3277
Directions to the Spa from Ottawa, Central Ontario and Montreal
Directions to the Spa from Embrun, Casselman or Rockland Ontario